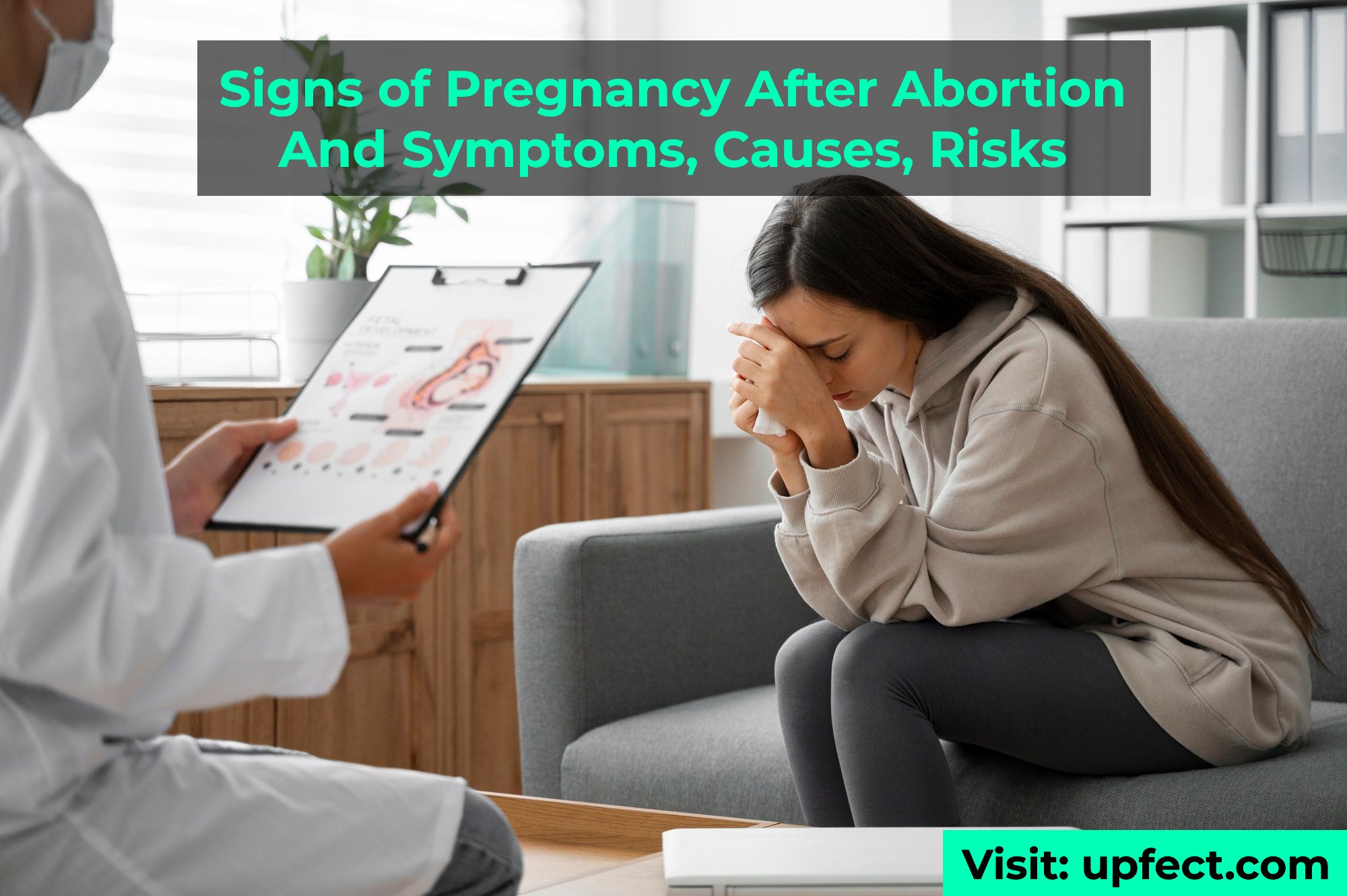 What is Abortion?
According to WHO, Signs of Pregnancy Abortion is the expulsion or extraction from the mother of an embryo or fetus weighing 500 gm or less when it is not capable of independent survival. This 500 gm of fetal development is attained approximately at 22 weeks of gestation. 
An abortion is the expulsion or extraction of all (complete) or any part (incomplete) of the placenta or membranes, without an identical fetus or with a fetus (alive or dead) weighing less than 500 gm. 
Information is given about abortion methods and medical risks and emotional reactions to abortion. Also described are the medical risks of childbirth. However, it should be emphasized that as technology and medical advance occurs, the medical risks associated with abortion and childbirth are diminishing. 
Continuing a pregnancy and delivering a baby is usually a safe, healthy process. But abortion is when a pregnancy is ended so that it doesn't result in the birth of a child. Abortion is when a pregnancy is ended so that it doesn't result in the birth of a child. Abortion is the ending of pregnancy by removing a fetus or embryo before it can survive the uterus. 
An abortion that occurs spontaneously is also known as a miscarriage. Birth control, such as the pill or intrauterine devices, can be used immediately following abortion. When performed legally and safely, induced abortion does not increase the risk of long-term mental or physical problems.

Pregnancy After Abortion
A woman may become pregnant again after an abortion before her next period as ovulation can occur as soon as two weeks after the abortion. It is important to avoid pregnancy just after an abortion. A woman can use any artificial means guided by a health professional to avoid early pregnancy. 
It is good to wait until at least one complete menstruation period. Some women however find it very difficult to conceive after abortion. There can be adhesions inside the uterus that makes conceiving difficult. 
So, we instruct the couple not to plan for pregnancy, a couple of mouth after an abortion. Also, avoid sexual intercourse for a few weeks after abortions to prevent infection that can come to the partner.
Signs of Pregnancy After Abortion
Tenderness of the breast
This symptom is a condition caused by hormonal changes during pregnancy or after miscarriage. During pregnancy, the body produces high levels of hormones like estrogen and progesterone, which can cause the breast tissue to swell and become more sensitive. After a miscarriage, the levels of these hormones can fluctuate as the body adjusts, leading to conditions such as breast tenderness.
Nausea and Vomiting
These symptoms are also common during pregnancy, but can also occur after a miscarriage as the body adjusts to changes in hormone levels.
Signs of Pregnancy Fatigue
Pregnancy and miscarriage are both physically and emotionally stressful situations, leading to feelings of exhaustion and fatigue.
Spotting or bleeding
It is normal to experience some light bleeding or spotting after a miscarriage, but if it continues or is accompanied by other pregnancy symptoms, it is a sign of pregnancy.
Missed periods
If you've had a miscarriage, it may take several weeks or months for your menstrual cycle to return to normal. However, if you miss a period or your periods become irregular, this is a sign of pregnancy.
Does an Abortion Affect Future Pregnancies?
No, Abortion Affects Future Pregnancies. Abortion does not affect fertility or future pregnancies. An abortion will not usually affect your chances of becoming pregnant and having normal pregnancies in the future. Uncomplicated abortion should not affect fertility.
How to Get Pregnant After an Abortion
Women do not need to take extra steps to become pregnant after an abortion. It is advisable to give at least a 3-month gap after abortion, and the body can go back into the rhythm and the hormones can go into the rhythmic fashion so that the periods come regularly. Follow an active style, of exercise and walking and then you can plan your pregnancy. 
After the abortion, the first period comes, the person should be psychologically fine, should be able to handle a future pregnancy. The nutritional support, the family support, the exercises, all the natural things that the patient had been doing should go back to their normal levels. So we should give the woman at least 3 months before she can embark on the next pregnancy. The most important thing is pre-pregnancy folic acid. 2- 3 mouth of folic acid is also required. 
Once the next period starts, the pre-pregnancy folic acid should be started. Nutrition, exercise, lifestyle should be part of her life for the next 3 months, then look forward to a new pregnancy. Exercise is very good for pregnancy. So those people who have been doing exercise should continue to do exercise. It helps for normal vaginal delivery and all the aches and pains of pregnancy.
Signs of Pregnancy After Abortion Symptoms
Abortion is any pregnancy loss before 20 weeks; up to 25 percent of clinically recognized pregnancies end in abortion.
Abortion symptoms include:
Vaginal bleeding: present pelvic pain.

Passing clots and tissue.

Abdominal pain.

Pregnancy symptoms disappear.

Loss of consciousness.

Severe allergic reaction

A general feeling of being unwell, or still feeling pregnant.

Painful or swollen breasts.
Signs of Pregnancy Abortion Procedure
In the first trimester ( up to 12 weeks)
Medical
Mifepristone

Mifepristone & misoprostol ( PGE )

Methotrexate & misoprostol

Tamoseiten & misoprostol
Surgical
Vaccine aspiration ( MVA / EVA )

Suction evacuation

Dilation & evacuation: a) Rapid method b) Slow method
Medical Methods of First-Trimester Abortion
Mifepristone an analog of progestin ( norethindrone) acts as an antagonist, blocking the effect of natural progesterone. The addition of low-dose prostaglandins (PGE1) improves the efficiency of first-trimester abortion. It is effective up to 63 days and is highly successful when used within 49 days of gestation.
Protocol: 200 mg of mifepristone orally is given on day 1. On day 3, misoprostol  (PGE1) 400 μg orally or 800 μg vaginally is given. 
The patient remains in the clinic for 4 hours during which expulsion of the conceptus 95% often occurs. The patient is re-examined after 10 – 14 days. Complete abortion is observed in 95%, incomplete in about 2% of cases and about 1% do not respond at all. 
Oral mifepristone 200 mg (1 tab) with vaginal misoprostol 800 μg ( 4 tabs, 200 μg each) after 6-48 hours is equally effective. This combo pack (1+4) is approved by DGHS, Government of India for MTP up to 63 days of pregnancy. Medical methods are safe, effective, non-invasive, and have minimal or no complications.
Contraindications– Mifepristone should not be used in women aged over 35 years, heavy smokers, and those on long-term corticosteroids.
Surgical Methods of First-Trimester Abortion
Vacuum aspiration ( MVA/EVA) is done up to 12 weeks with minimal cervical dilation. 
It is performed as an outpatient procedure using a plastic disposable cannula (up to 12 mm size) and a 60 ml plastic (double valve) syringe (see fig. 42.21), it is quicker (15 minutes), effective ( 98-100%), less traumatic and safer than dilatation, evacuation, and curettage ( details see p.527).
Suction Evacuation And/Or Curettage:
This improvised method consists of a suction machine fitted with a cannula either plastic (karma) or metal available in various sizes. The details of its technique are described in the chapter on operative obstetrics (see p.526).

Signs of Pregnancy Causes of Abortion
Most women blame themselves for abortion, but most abortion happens for reasons that are beyond control.
1) Genetic factors (50%):
Chromosomal abnormalities such as autosomal trisomies, 45XO, triploid & structural abnormality.

Genetic abnormality such as defective enzyme production.
2) Immunological (50%): 
Placental thrombosis. 

Placental infarction. 

Fetal hypoxia. 
3) Anatomic abnormalities (10-15%): 
Cervical incompetence. 

Congenital malformation such as:
Bicornuate uterus. 

Septate uterus. 

Uterine didelphys. 

Uterine hypoplasia.
Retroversion. 

Uterine synechiae.

Fibroid uterus.



4) Endocrine & metabolic disorders (10-15%): 
Luteal phase defect (LPD). 

Deficient progesterone. 

Thyroid abnormalities:
Overt hypothyroidism. 

Overt hyperthyroidism. 
5) Maternal medical illness: 
Cyanotic heart disease. 

Hemoglobinopathies. 

Systemic lupus erythematosus (SLE). 

Hypertension.
6) Infections (5%): 
Bacteria: Ureaplasma, chlamydia, brucella, spirochetes. 

Viral: rubella, CMV, and HIV. 

Parasitic: Toxoplasma, malaria.
7) Drugs: 
IUCD in situ. 

Aniline. 

Lead. 

Formaldehyde. 

Anaesthetic agents. 

Quinine.
8) Others: 
Trauma.


Cigarette smoking. 

X-radiation.
An abnormal placenta development that interrupts the flow of blood from the mother to the baby chromosomal abnormalities in the baby, about 50% of abortion care due to chromosome is weakened cervix.
12 foods cause abortion in early pregnancy 
Crabs 

Sesame seeds 

Animal liver 

Drumstick 

Raw dairy products 

Caffeine 

Mercury rich fish 

Herbs 

Alcohol
Signs of Pregnancy Safety of Abortion
Safe abortion is a procedure for terminating unwanted pregnancy performed by trained healthcare providers with proper equipment, correct technique & sanitary. Surgical abortion is one of the safest types of medical procedures. Complications from having a first-trimester aspiration abortion are considerably less frequent and less serious than those associated ( using medications to end a pregnancy) have a similar safety profile.
Unsafe of Abortion 
It is defined as the procedure of termination of unwanted pregnancy either by a person's lacking the necessary skills or in an environment lacking the minimal standards or both. 

About 90% of unsafe abortions are in developing countries comprising 13% of all maternal death (WHO 1998). 

All the complications are preventable if it is performed in a safe manner with proper post-abortion care service.
Signs of Pregnancy Risks of Abortion
Abortion causes a weakening of the cervix, which increases a woman's risk of future preterm deliveries.
Complications of Induced Abortion:
Hemorrhage.

Infection: endotoxic shock.

Oliguria, anuria, ARF.

Thrombophlebitis.

Perforation of the uterus.

Retained products of conception.

Cervical damage.
Complications of Abortion: 
Severe or persistent hemorrhage. 

Sepsis develops most frequently after self-induced abortion. 

Infection. 

Intrauterine synechiae. 

Infertility.
Other Complications of Abortion:
Immediate:
Injury to the cervix ( cervical laceration).

Uterine perforation during D& E (see p.526).

Hemorrhage and shock due to trauma, incomplete abortion, atonic uterus, or rarely coagulation failure.

Thrombosis bor embolism.

The postabortal triad of pain, bleeding, and low-grade fever due to retained clots or products. Antibiotics should be continued, may need repeat evacuation.
Signs of Pregnancy Prevention of Abortion
Most abortions cannot be prevented but precautions can be taken to increase your chances of a healthy pregnancy.
Alcohol, drugs, and smoking cessation during pregnancy.
Maintaining a healthy weight before and after pregnancy.

Exercise is very good for pregnancy. So those people who have been doing exercise should continue to do exercise. It helps for normal vaginal delivery and all the aches and pains of pregnancy.

Eating a healthy, well-balanced diet with plenty of folic and calcium taking prenatal vitamins daily.

Limit caffeine intake.

Provision of safe, legal abortion.